It's a little late coming, but I wanted to do my regular recap of the awesome group shoot we had in mid April, at the
Yankee Air Museum
which is currently being housed at the Grosse Ile Airfield. If you've seen the other meetups, you'll notice that this is our second time at this location, with one small difference. Or four big ones.
Four WWII era planes, including the massive Boeing B-17 Flying Fortress pictured here, were available for our group to use as backdrops and more for this shoot. While some of the coolest shots were done outside of the planes, we were given the opportunity to shoot inside these working, flying pieces of history.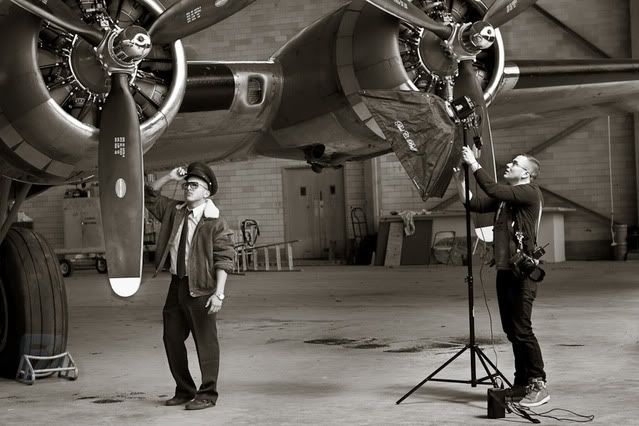 Sonny is one of our awesome returning models that I work with on a regular basis when we do these events. Dressed up in a semi-authentic jacket and aviators cap, he looks pretty close to the real deal. There were some logistics that made putting this whole thing on, but this one shot was worth it.

Because I was traveling super light, and we were a little pressed for time, my lighting setup was deceptively simple. There's just that one softbox, raised up high and feathered down on Sonny. No tricks, no gimmicks, one flash and a massive hangar door streaming in some mid afternoon light. I was also testing out my new Alien Bee's and White Lightning Vagabond Mini battery. I shot for four solid hours on a single AB800 without even running down the battery meter. I think this one would outlast my Vagabond 2's, and weighing in at 5 lbs, it's a lot easier to travel with.

This was a smaller meetup by necessity of the venue, but we still brought in over 20 people to hang out and shoot with. We took this group shot with the volunteers who were our guides and technical advisors, in front of the same B-17, the Yankee Lady.


The Yankee Air Museum was extremely generous in the access they provided us with to these planes which are becoming more in danger of literally running out of parts. And after an unfortunate hangar fire at their old location in Ypsilanti, we were glad to raise a $500 donation to provide support for their mission of keeping these incredible machines hangared and flying.

We're already looking forward to seeing them again in October, so be sure to check out the A2/DT Strobist page to see when we're scheduled to go down there for another group meetup, and to see the pictures from this one and those past.

I also wanted to give a shoutout to a long-time participant of the group, Luis, who took what is probably one of my favorite pictures to come out of the meetup. While I was distracted with packing up and wrangling the gear I had loaned out, Luis snuck this shot in at the last minute in front of the B-25 with one of our models, Connie.

____________
Follow Me on Twitter
|
Be a fan on Facebook
|
Website