Why use one beauty dish when you have an entire school's worth of equipment at your disposal? That seemed like sound logic to me as I ransacked the the portrait studio bays next to mine of their lights, stands and beauty dishes. I could have gotten even more, but I didn't want to appear greedy. Photographers wax poetic about how gorgeous a beauty dish can be, and how if one is good, two is better. I never did hear anyone say if two is better than three must be overkill, so I went for it.
See a lighting diagram and more info after the jump.

It started innocently enough, I booked a model to do a shoot at the request of my retoucher back in Michigan. He sent makeup concepts, we picked a girl, and we were good to go. While the original idea was to have a lip-gloss centric shoot, we thought we would expand the number of looks we could get by starting with just the basic face and eye makeup first, then adding the lips in afterwards.

In the course of doing our initial shots, I noticed that my model had exceedingly long hair. Since most of my work has been lacking a hair stylist (this time as well unfortunately), I thought we could use the hair to frame and accentuate her face. My makeup artist wrapped the hair around her neck and held it to her back while I took a few frames, but I felt that something was lacking in the lighting. We already had a fairly large setup going, but it was typical of my older work as well. I wanted to push things a little bit.

In just a few minutes, I had three beauty dishes on booms positioned within inches of the model. The lightmeter that I had initially dreaded using was telling me to shoot at f/32 at ISO 50. Thats a whole lot of light, and they weren't even turned up the whole way.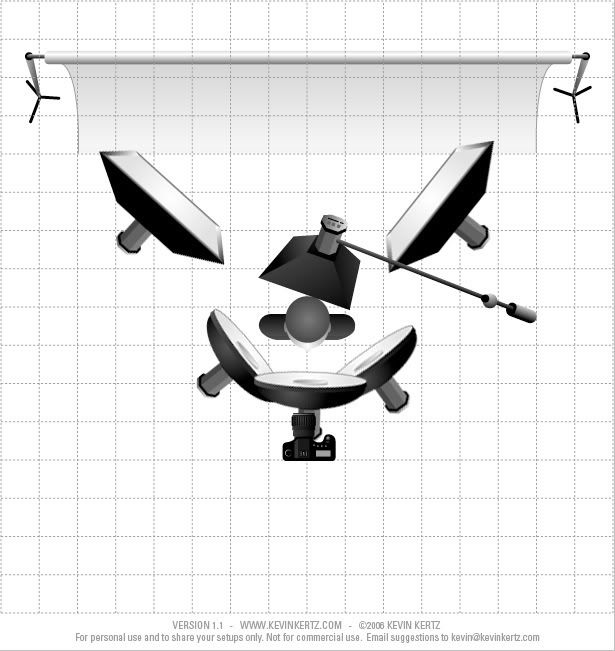 I was afraid that I was actually taking a huge step back in technique, and that I would simply be blasting my model with too much light for the sake of using too much light. But even on the cruddy screen of the Aptus back, I could tell I had finally left that behind. Turning down the power slightly on the right beauty dish gave a little shadow for some definition and depth, but the overall light is even and smooth all the way across her face.

This shot ended up being a very last-minute submission for the best of college contest after a nearly sleepless night of retouching. It still has a little ways to go before being a final, polished image though. Sometime soon-Retouching post.